The world at your fingertips...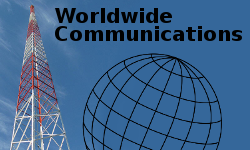 Welcome to KF5IW.com, the official website of the KF5IW DMR repeater servicing Fort Myers, Florida and vicinity. KF5IW is an open repeater owned and operated by Jim Blocker KF5IW for the benefit of the local Amateur Radio community. The repeater is not affiliated with any club, nor are any dues required to use the repeater.
KF5IW is part of the K4USD DMR network providing local, regional, national and international connectivity. Most DMR-MARC talkgroups are supported.
A Tier II 70cm DMR handheld or mobile transceiver is required to use the repeater. Suitable radio equipment is available from a variety of manufacturers sold by numerous dealers.
A Tier I radio is incompatible with KF5IW and use of such equipment will result in you being banned from the repeater.
Please visit the Talkgroups page to view available talkgroups >>>
Digital Contact Database
Every morning we automatically generate a new worldwide digital contact list compatible with the Anytone AT‑D868UV and AT‑D878UV handheld transceivers. Now you don't have to mess with downloading the DMR ID database and manipulating it with your favorite spreadsheet program!
Download the contact list from here >>>
DMR Projects
When we're not busy talking on DMR, we're working on some interesting DMR-releated projects!
Ron Ketchum WB2RCB was kind enough to share his recent project:
Portable Go-Box for your TYT MD-380/390 with cellphone hotspot
Please visit the Projects page to see what we've been up to >>>
Tuesday Lunch bunch
Want to hobnob with other DMR users? Want to find out about Timeslots, Talkgroups and Color Codes? Want to solve all the world's problems? Then join us at the next lunch bunch!
Please visit the Lunch bunch page to view all the details >>>
Thursday Evening DMR Net
Please join us 7:00PM local time on KF5IW Local 2 / SW FL for the Southwest Florida DMR net! We will have important announcements regarding DMR, as well as take your comments and questions.